Annually each spring, AAUW Harrisonburg awards a $1000 scholarship to a college-bound senior woman graduating from one of the five public high schools in the Harrisonburg City and Rockingham County Public School districts.  The scholarship award rotates among the high schools alphabetically, beginning with Broadway High School in 2016.  By March 1st of each year, the Branch Scholarship Committee will contact the counselor at the designated high school in our two districts and ask them to "nominate" young women from their schools who have shown strong leadership though service to their school and community, who have overcome personal and/or family difficulties in pursuit of their education and, who have maintained a GPA of at least 3.0.  Each nominee is contacted and asked to complete a brief application and essay.  When the applicants have submitted the requested documents, the Branch board will meet to select the winner from the finalists chosen by the committee.  The winner's future college or university will receive a check for $1,000 toward her tuition, and a book is donated to her high school library in her name.
We welcome members from our AAUW Branch who are interested in working with counselors at each of our five public high schools in the city and county and help determine the finalists out of several applicants from the designated school for each year.  Please contact Laura Zarrugh, branch president, Patti Warner, scholarship chair, or any member of our Board if you are interested in taking a part in this significant project for our Branch.
AAUW Crystal Theodore Annual Scholarship Awardees
2013:  On Honors Day at Broadway High School in June, Dr. Margee Greenfield presented our $500 annual scholarship and a framed certificate to graduating senior, Deanna Garmer, daughter of Donna and John Garmer of Timberville.  Deanna ranked 9th in her class of 242.  She also won the "2013 Leadership Award" given by the Daily News-Record.  We donated a book in Deanna's name to her school library. This year the book was Written by Herself: Autobiographies of Twenty-five American Women, an anthology by Jill Ker Conway. Deanna plans to attend James Madison University and hopes one day to become a professor.
 2014:  Broadway High School graduating senior, Brittney Delawder, is the recipient of the "Crystal Theodore/Unsung Heroine Award" for 2014.  The annual monetary award has been increased to $1,000 in memory of Dr. Crystal Theodore, former Branch President and former Head of the JMU Art Department.  Ms. Delawder graduated with a 3.65 GPA and will attend James Madison University in the fall.  She is considering a career in occupational therapy with special needs children.  She has a strong history of volunteering in her community and at a girl's basketball camp, as well as assisting in Relay for Life.  Brittney's parents are Pamela and Wesley Delawder.   In addition to the scholarship and a certificate, a book in her name was donated to her school library.  This year, the book was The Invention of Wings by Sue Monk Kidd.
2015:  Our Branch President, Sylvia Rogers. presented a $1,000 scholarship to Laurie Anne Serrell, a graduate of Harrisonburg High School.  Her cumulative GPA was 3.57.  She helps at home with her mother who has multiple myeloma.  At HHS, she participated in Young Life, Streaks Serve the 'Burg, and the Interact Club.  She represented her church at the National Youth Conference in Colorado in 2014….and is serving on the search committee to seek a new assistant pastor for youth and young families.  For all four years at HHS, Laurie was on the Cross Country and Track and Field teams representing HHS in numerous district, conference, regional, and state championships.  Her ultimate goal is to become a midwife.  She will attend Eastern Mennonite University in the fall, majoring in Nursing and minoring in Spanish.  The book we donated to her school library in her name was Behind the Beautiful Forevers by Katherine Boo.
2016:  Our scholarship winner is Jenna Marie Hostetler, a new graduate of Broadway High School with a 4.14 GPA.  Her address is 5239 Williamsburg Road, Linville, VA 22634.  She has been accepted by James Madison University which she will enter in the fall and double major in Nursing and Spanish.  A $1,000 check has been deposited in her account at JMU, to go toward her tuition.  Jenna hopes to go on to graduate school for a Masters of Science in Nursing with a concentration in Nurse Midwifery.  At school, she was in the ACES Leadership Club, welcoming incoming freshmen and transfers.  In the community, she is a member of the Harrisonburg/Rockingham Relay for Life Survivor and Caregiver Recognition Committee for the American Cancer Society.  Our member Jan Leach will present the award on May 27, Honors Day, together with a gift book for Jenna's high school library in her name.  The year the book is A Mightly Long Way, My Journey to Justice at Little Rock Central High School by Carlotta Walls Lanier.
2017:  Our scholarship winner is Makenzie Herring from East Rockingham High School.  The $1,000 scholarship was presented by Sylvia Rogers, President of AAUW Harrisonburg Branch, and Bonnie Ham Beckner whose husband Brett Beckner gave $1,000 this year in Bonnie's name to honor her April birthday and her graduation from JMU with a Masters degree.  Makenzie is from Elkton; she is the first generation college student in her family.  Makenzie has a 3.556 GPA and is 58 in her class of 163 at East Rockingham High School.  She will attend Northern Virginia Community College and major in Diagnostic Medical Sonography.  During her high school years, she has worked part-time with the Boys and Girls Club and volunteers her time with a community service project "Adopt a Family".  Makenzie is a member of the Cancer Warriors Club and Educators Rising Club, for which she volunteers to work with students at Riverbend Elementary.  She also assists a teacher at Elkton Elementary for one class period every other day.  Her recommendations include 'kindness' and 'professionalism'; "she sets an exceptional example for her fellow students with her strong work ethic, excellent attendance, and pleasant attitude."  The book presented to her high school library in her name is Hidden Figures about the African-American women who worked for NASA as mathematicians in the early days of space exploration.
2018:   Our 2018 scholarship winner is Ngoc Phuong Anh Tran. On June 1, the AAUW Harrisonburg Branch awarded the 2018 Crystal Theodore Scholarship to Miss Ngoc Phuong Anh Tran, a senior at Harrisonburg High School. Sylvia Rogers presented the $1000 scholarship to Miss Tran at the high school's annual Award Ceremony, citing the scholarship committee's recognition of Miss Tran's high academic achievements, her leadership qualities, her service in the community, and her goal of pursuing a degree in higher education. Anh Tran, who was born in Vietnam, came to the United States in 2016 to live with her father. In Vietnam, she attended the Le Hong Phong High School for the Gifted.
2019:  On May 30, 2019, Honors Day at Spotswood High School, member Jan Leach presented our annual scholarship of $1,000 to graduating senior Arlec F. Hernandez-Paz, the daughter of Alejandra Hernandez-Paz of Harrisonburg, VA.  Both her parents are first-generation Mexican immigrants, and as the oldest in her family, she has had to assist them in daily affairs with English interpretation.  Arlec graduated with a 3.91 GPA and is a member of the National Honor Society.  She has been accepted to Virginia Commonwealth University.  Arlec's goal is to attend medical school and to specialize in obstetrics and gynecology.  This summer she is enrolling in a summer training program to serve as a Spanish medical interpreter.  Mr. Christopher Hu, her Chemistry teacher, said "Arlec is one of the first Latino students that I have had the chance to teach.  Her attitude towards education has been a breath of fresh air for me.  I believe that given the chance, Arlec will prove to be a dedicated student and health professional in the future."  She has contributed service to the community by helping plan and design a fundraiser to help build dormitories for girls at the Nasaruni Academy in Kenya.  She has also helped her teacher set up art shows, babysat during a PTA meeting for Cub Run Elementary School, and helped the librarian at Peak View Elementary School during a Literacy Night.  We also gave her a book:  Elizabeth Blackwell, America's First Female Doctor — to be donated to her high school library in her name.
2020-21:  Our scholarship is postponed for this academic year, since the schools are closed due to the corona virus Pandemic.  We will resume awarding a scholarship in the Spring of 2022.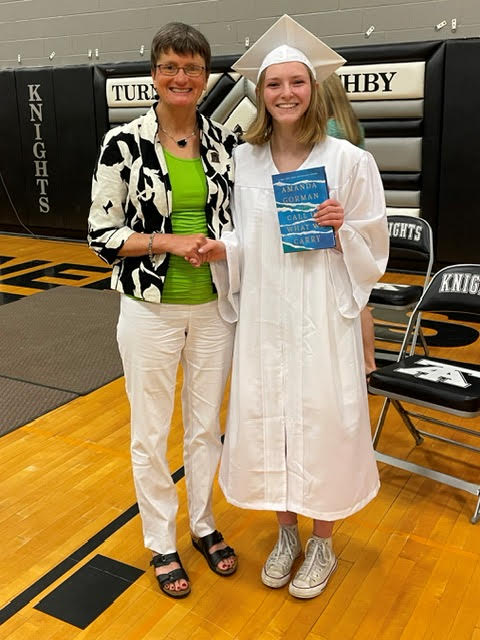 2022-2023:   Our $1,000 scholarship will be presented to a graduating senior at Turner Ashby High School on Honors Day, May 27, 2022.  She will be attending VCU.
The Harrisonburg branch now has the privilege of helping another young woman contribute to society.
After receiving many applications from well qualified students, our committee selected Ava Schrag due to her passion for service.  Not only did she present glowing teacher recommendations and express a desire for life-long learning, Ava wants to use photography to tell the forgotten stories of others and raise awareness about injustice and inequality.
On May 27, 2022, Ava Louise Schrag, a graduating senior at Turner Ashby High School, was presented with the 2022 Crystal Theodore Scholarship from the American Association of University Women, Harrisonburg, Virginia branch.  A check for $1,000 has been sent to Virginia Commonwealth University for her pursuit of a Baccalaureate degree in the School of Arts in Photography and Film.  We are also donating the book of poems, Call Us What We Carry by Amanda Gorman, to the Turner Ashby High School Library in her honor.  Congratulations!