Begun in 1975, our popular book club meets monthly during the academic year, on the THIRD THURSDAY at 2:00pm, in a member's home or other venue.  The hostess serves coffee, tea, and a snack or dessert.   We meet in September to contribute to a list of books we would like to read during the coming year.  The recommended book must have been read by the one who suggested it! Pem Liskey is the unofficial keeper of the log.  A vote is taken to decide which books to choose.  We try to select two to three books in advance.  These books should meet the requirement of being available in paperback.  Each member is responsible for acquiring her own copy.  We are flexible in that if other titles come up during the year, we may deviate from our list.  Our discussions are informal, covering the author, the reviews, and our individual reactions to the book.   All participants must be members of AAUW.  For more information call Pem Liskey at 434-1295.  RSVP to the hostess beforehand.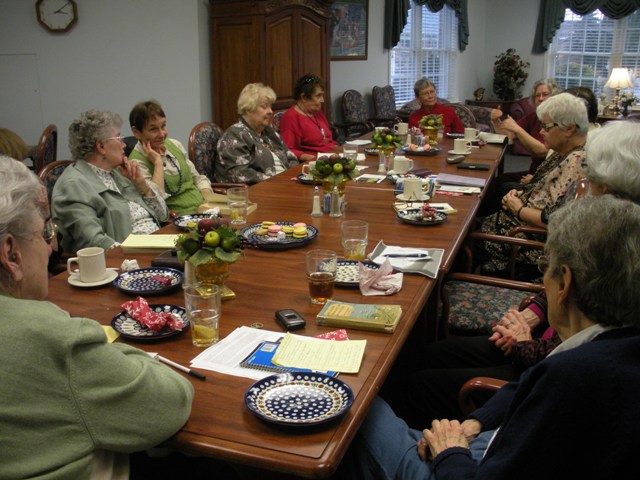 BOOKS READ IN 2017-2018:
HILLBILLY ELEGY, A Memoir of a Family and Culture in Crisis, by J. D. Vance (non-fiction)
October 19, Thursday at 2pm
North River Library, Mt. Crawford Avenue, Bridgewater, VA
RSVP to Pem Liskey. Refreshments by Chris Edwards.
BEHOLD THE DREAMERS, by Imbolo Mbue (fiction)
November 16, Thursday at 2pm
We will meet at the home of Marilyn Brook
RSVP to Pem or Marilyn
*** No meeting in December ***
SMALL GREAT THINGS, by Jodi Picoult (fiction)
January 18, Thursday at 2pm
RSVP to Pem or Marilyn
Place: Home of Marilyn Brook
ALICE: ALICE ROOSEVELT LONGWORTH, FROM WHITE HOUSE PRINCESS TO WASHINGTON POWER BROKER, by Stacy Cordery (biography)
February 15, Thursday at 2pm – Bring a snack to share
Place: Home of Marilyn Brook (RSVP to Marilyn)
HIDDEN FIGURES, by Margot Lee Shetterly (non-fiction)
March 15, Thursday at 2pm – Bring a snack to share
Place: Home of Marilyn Brook (RSVP to Marilyn)
THE OTHER SIDE OF THE BRIDGE, by Mary Lawon (fiction)
April 19, Thursday at 2pm – Bring a snack to share
Place: North River Library, Bridgewater, VA
ABOUT GRACE, by Anthony Doerr (fiction)
May 17, Thursday at 2pm – Bring a snack to share
Place: TBA
STONER, by John Williams (New York Review Classic – fiction)
September 20, Thursday at 2pm
Bring recommendations for books to read (you must have read the book to recommend it).
Place: Pem Liskey's home
Books to read in 2018-2019
A SEPARATE PEACE, by John Knowles (fiction)
October 18, Thursday at 2pm
Place:  North River Library in Bridgewater
STILL LIFE WITH BREAD CRUMBS, by Anna Quindlen (fiction)
November 29, Thursday at 2pm
Place:  At the home of Jane Bowers
A GENTLEMAN IN MOSCOW, by A. Towles (fiction)
January 17, Thursday at 2pm
Place:  At the home of Pem Liskey
MY READING LIFE, by Pat Conroy (non-fiction/memoir)
February 21, Thursday at 2pm
Place:  At the home of Beth Bodnar
WOMEN IN THE WINDOW, by A. J. Finn (fiction/mystery)
March 21, Thursday at 2pm
Place:  North River Library in Bridgewater
EDUCATED, by Tara Westover (autobiography)
April 18, Thursday at 2pm
Place:  North River Library in Bridgewater