OUR BRANCH HAS RECENTLY CELEBRATED OUR 90TH ANNIVERSARY:  1929 – 2019
"Welcome" to the Harrisonburg Branch of the American Association of University Women (AAUW).  AAUW is the oldest national organization for women, founded in 1881, whose mission is to advance equity for women and girls through advocacy, education and research.  Our Harrisonburg Branch was founded in 1929.  By joining AAUW, you belong to a community that breaks through educational and economic barriers so that all women have a fair chance.
Currently Harrisonburg, Winchester, and Greater Richmond are the only branches in the Northwest District.  There are no longer any branches in Staunton, Waynesboro, nor Charlottesville.
Membership in AAUW is open to anyone holding a two-year associate degree or higher degree from an accredited college or university, or equivalent (RN).  The Harrisonburg Branch offers the opportunity to meet and participate in a variety of activities with an interesting group of educated women.  Your dues and donations also support national and state AAUW work in education and legal advocacy.  Please visit (and 'like') our Facebook page at "AAUW Harrisonburg, VA".  We actively promote equal rights for women, as well as equal pay. Registering all citizens to get out the vote is another priority.
To join our branch, go to "Members" and then to "Membership".  Click on "Membership Application Form" at the bottom of the page. Then follow directions.  Dues are paid annually on July 1.
Currently, we offer programs that are open to the public, two monthly book clubs,  informal lunchtime discussion groups, a scholarship to a local college-bound student, and an annual STEM Conference for Young Women co-sponsored with James Madison University.
"Great Decisions" book discussion group  was started by Laura Zarrugh in 2016.  Please contact her to determine the dates and times this book group meets.  The "Diversity Book Club" normally meets monthly to discuss a book recommended by the AAUW Diversity Chair, Laura Zarrugh.  These book clubs may meet (via ZOOM) during the coronavirus pandemic.  Check the Programs/Calendar for meeting dates.
We hand out voter registration forms at local Naturalization ceremonies in the federal courthouse, at JMU, and at the Harrisonburg Farmers Market.  Our members continue to be activists in the community on AAUW's Public Policy priorities, such as the ratification of the ERA amendment and activities on diversity and multi-culturalism.
October 13 -DEADLINE TO REGISTER TO VOTE!   If you have not done so and wish to, you may register here: (Click the "Virginia: Register to VOTE" icon below.)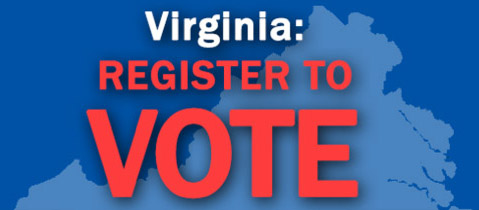 September 18    Absentee ballots will be mailed, starting on this date
October 13       Deadline to Update Registration or to Register to vote
October 23       Deadline to apply for an Absentee Ballot
November 3     Election Day
Recently, at the onset of the coronavirus pandemic, 200 bottles of hand sanitizer were donated by our members, in response to Mayor Deanna Reed's appeal for "Care Kits" for vulnerable members of the community.
Membership is open to all women from the greater area, in Rockingham County and beyond, who have a minimum of a two-year associate degree or equivalent.  This is our only requirement for membership.  Men are invited to join as well.  We are in the Northwest District together with the Winchester Branch and the Greater Richmond branch, with whom we share district meetings on topics of interest.
AAUW Stands Against Racism
The following is a statement from AAUW CEO Kimberly Churches
AAUW joins the country in mourning the losses of George Floyd, Ahmaud Arbery, Breonna Taylor and countless other people of color who have been unjustly killed across our nation. Our country needs healing. But healing will only come with justice. As an organization we condemn racism.

Systemic racism is firmly rooted in the U.S. and today's injustices mirror our shameful history — from police brutality to the disproportionate impact of COVID-19 on communities of color. There can be no justice or equality when Black and Brown communities are seen as less deserving of basic human and civil rights.

On behalf of our 170,000 members and supporters, we commit to fighting for justice, long-term and lasting change, and we stand in solidarity against racism. We also acknowledge that as an organization we have our own work to do.

And, as a member of the Leadership Conference on Civil and Human Rights, we will work to advance the policies and systemic changes identified in the New Era of Public Safety: A Guide to Fair, Safe, and Effective Community Policing and Vision for Justice platform.
                           AAUW Harrisonburg Board Members
President   Laura Zarrugh (2018-20)
Co-President   vacant
Finance Officer    Sue Gier (2019-21)
VP for Membership  Rosemarie Palmer
VP for Programs   Chris Edwards (2019-21), with help from Mary Perramond
Co-Secretaries   Marcia Brown (2019-2021) & Elayne Smith (2018-20)
Scholarship   Nancy Martin-Finks & Patti Warner
Public Policy   Sylvia Rogers
Hospitality     Christina Updike
JMU Liaison   Samantha Collier
Webmaster & Facebook    Sylvia Rogers & Rosemarie Palmer
Public Relations    Rosemarie Palmer
Archivist   Susan Wheaton
Book Clubs Chair  Laura Zarrugh
Yearbook  Sue Gier & Rosemarie Palmer
Northwest District Co-Reps
Carol Stephens – Greater Richmond Branch
Sylvia Rogers – Harrisonburg Branch
For additional Information:
Contact Sylvia Rogers at srogers1nm@aol.com