THIS 2020-21 CONFERENCE HAS BEEN CANCELLED DUE TO THE CORONAVIRUS PANDEMIC.
The next "Expanding Your Horizons" STEM Conference will be held at JMU East Campus on a Saturday, March 26, 2022.  The name has been changed to "MadiSTEM".  We are still serving as a supporter for this reoccurring annual event, organized by the Math Department at James Madison University.
The Madistem Conference will be held on March 25 in 2023 on the JMU campus.
See details at http://www.jmu.edu/madistem
---
Our AAUW branch is a co-sponsor of the free, one-day, annual spring conference at JMU aimed at young women grades 6-10 and  known as "Expanding Your Horizons."  The 2014 Conference was held on Saturday, March 22, 2014, from 9:30am to 3:30pm in Memorial Hall at James Madison University. At the end of program, each student was presented with a certificate in her own name.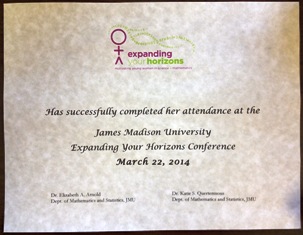 The girls and their parents participate in exciting hands-on workshops organized by the James Madison University mathematics and statistics faculty, and they attend a keynote speech by a prominent woman scientist.  Two student members of the campus branch of the  American Chemical Society gave a demonstration, seen here, that was entertaining and informative.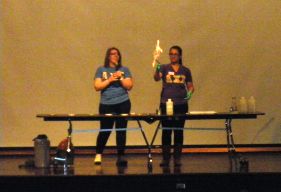 The goals of the conference are to stimulate the participants' interest in science, technology, engineering, and math (STEM) through hands-on activities, to provide them with female scientist role models, and to foster awareness of career opportunities in math and science.
Dr. Melyni Worth, a nutritionist and President and Director of Research and Development at Foxden Equine, gave the Opening Address.  The Keynote Speaker, Dr. Caroline Lubert, Professor of Mathematics & Statistics at JMU, pictured below, spoke about her experiences as a specialist in audio engineering in her talk entitled "When I Grow Up I Want to Be a Rocket Scientist."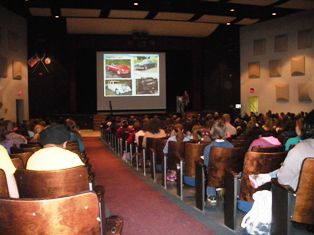 Over 400 persons attended the well-organized event, including 200 students who came from the local area, other locations in Virginia, out of state, and as far away as Canada.  Also attending were 100 parents and the workshop presenters.  One hundred JMU volunteers (both students and faculty), a few of whom–in yellow t-shirts– are seen in the photo below, helped facilitate the event's complex logistics.  Attendees each received a white t-shirt with an EYH logo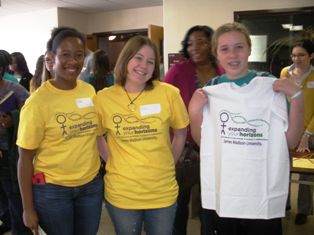 All attendees were treated to a box lunch and gathered in discussion groups led by JMU student volunteers to talk about their interests in the sciences and their plans for majoring in a STEM discipline when they enter higher education.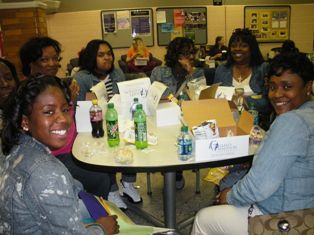 The coordinators of this highly successful event were JMU Professors Dr. Elizabeth Arnold (on the left below) and Dr. Katie Quertermous (on the right).  This is the 7th year that the conference has been convened under their skillful direction.  A very popular event, it has been filled to capacity in recent years.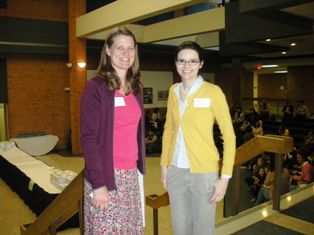 AAUW Harrisonburg branch members Jean LeRoy,  Rosemarie Palmer, and Sylvia Rogers attended the event and helped with registration, lunch service, and other logistics.  Jean is shown with faculty volunteers who registered attendees.  Rosemarie shown talking with one of the volunteers just before lunch service began.