On Saturday, October 15th, the two Title IX Coordinators from Bridgewater College and James Madison University, provided an extremely informative and important overview of what Title IX is and how it is managed at these two distinctively different institutions of higher learning in our community.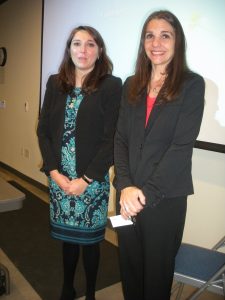 Heidi Hoover, J.D. (on the left above), Bridgewater College Title IX Coordinator since January, 2016, and Amy Sirocky-Meck, M.Ed. (on the right), who was appointed Title IX Coordinator at JMU in September, gave generously of their valuable time to the two hour presentation and the question and answer session which followed.   Each addressed the history and importance of Title IX, what it covers in relation to gender equity in education, and what processes are involved in addressing and resolving cases brought before the Coordinators.  This report is a summation of their remarks.
Title IX of the Education Amendments Acts of 1972 was the first comprehensive federal law passed in order to guarantee educational equity for males and females at all levels of education at schools K-12 and higher that receive federal funding. It covers not only students but faculty and staff.  It has been revised several times over the course of the 44 years following its approval, most recently in April 2015.  It is enforced by the Department of Education (DOE) through the Office for Civil Rights (OCR).  Over the years, a number of JMU faculty and administrators have been involved, first in authoring the Amendment, then in subsequent revisions.
One's first take about what Title IX encompasses is that it addresses campus athletic activities because some of the earliest cases did litigate against the imbalance in sports programs for women vs those for men, including the range of sports supported as well as funding for development and facilities.   However, it has a much broader scope.  Any circumstance that creates or fosters an inequitable learning environment is a violation of Title IX statutes.  These include the curriculum, physical learning environment, clubs and organizations, salaries for staff and faculty, support for those with learning disadvantages, and safety from bullying and sexual violence.  Ms. Hoover and Ms. Sirocky-Meck both reported that in higher education increasingly they are dealing with cases of sexual misconduct, which may take the form of sexual exploitation, sexual harassment, dating and domestic violence, non-consensual sexual intercourse or contact, and stalking.
For compliance purposes, Title IX requires institutions to adopt and publish policies against gender inequalities and to implement grievance procedures that provide prompt resolution of student and employment discrimination complaints.  All schools must publicly appoint and identify at least one employee to coordinate Title IX compliance.  At Bridgewater College, a private undergraduate school of about 2500 students, Ms Hoover is assisted by a Deputy Coordinator.  At JMU, a school of about 21,000 students enrolled in undergraduate and graduate programs, Ms. Sirocky-Meck is assisted by a team of coordinators for athletics, faculty and staff.   Compliance at both schools is reinforced by on-campus and online educational awareness and training campaigns.  Non-compliance complaints are met with a response that takes the situation seriously, provides trained, supportive staff to assist with the process, allows multiple and confidential reporting options, has fair and equitable disciplinary procedures in place to address misconduct, protects the rights of the victim and the accused, and assures safety for the entire campus.
The processes in cases of a complaint depend upon whether the case is managed on campus or whether the victim chooses to report the situation to local law enforcement, to an advocacy agency such as the Collins Center or First Step here in Rockingham County, or to the OCR.  If an on campus process is chosen, it will include an investigation and a hearing leading to a decision based on a preponderance of evidence.  If an outside agency is chosen, a protective order is provided, an investigation is held that is reviewed by the Commonwealth Attorney, and a decision is made on evidence beyond a reasonable doubt.
The AAUW strongly supports the vigorous enforcement of Title IX and all other civil rights laws pertaining to education and gender equity.  Earlier this year, the Harrisonburg Branch participated in a nationwide effort to help make the Title IX Guidance Packet available to all Title IX Coordinators in Rockingham County.  They are dedicated professionals who have grave responsibilities for situations with potentially serious  consequences for all involved.  We are very grateful to Ms Hoover and Ms Sirocky-Meck, and to their colleagues, for their outstanding work as guardians of the educational freedoms assured by Title IX.  We also appreciate very much their having shared their time, experience and knowledge with our Branch.
We are happy to have Karen Gerard back with us after her ultra-busy past year at JMU.  She is welcomed on the left by Tina Updike and on the right by Marty Brown.