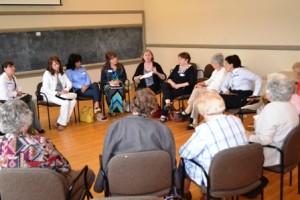 At the first program meeting of the academic year on Saturday, September 14th, member Laura Zarrugh facilitated a panel discussion with five local college-educated immigrant women about their experiences seeking employment in our area.  All of the young women are enrolled in advanced English language courses at Skyline Literacy, of which Laura is President of the Board.  Joining the discussion were Elizabeth Girvan, Executive Director of Skyline Literacy, and Terri Luginbyhl, Community Engagement Coordinator for the organization.
Professions represented among the panelists include law, nursing, accounting, medical lab work, and art instruction.  The women spoke movingly about their love for their previous careers and of their motivation to serve the local community in a capacity for which they are highly qualified and experienced.  Each of them emphasized the importance of becoming fluent in English and also of pursuing further education to give them employment opportunities.  They also acknowledged that it will take time, determination, and imagination to achieve their goals.
Their audience was sympathetic and both as a group, and individually, offered suggestions for finding mentors, work or volunteer opportunities, and a network of supportive friends.   Tina Updike invited them to come to programs being offered by our branch during the coming year.  We look forward to welcoming each of them at future meetings.
To learn more about accomplished artist Natalia Dubina, our panelist from Belarus, who is shown above with Dr. Laura Zarrugh, click on the link below.  The article was written by AAUW member Chris Edwards.
http://emu.edu/now/news/2013/09/presidential-portrait-artist-from-belarus-savors-new-season-at-emu/
The mission of Skyline Literacy is to provide needs-based instruction for adults in Harrisonburg and Rockingham County in literacy, English, and citizenship using trained volunteers.  If you would like to learn more about their work visit http://skylineliteracy.org/.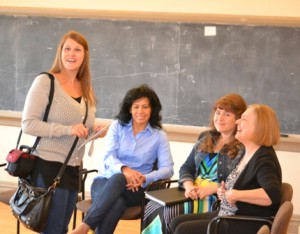 The photographs featured here were taken and contributed by Antonio Flamenco.  Emily Sharrer's article is in the 19 September 2013 edition of the Daily News Record, A3.   We appreciate their coverage of this engrossing and informative program.