The Great Decisions Discussion Group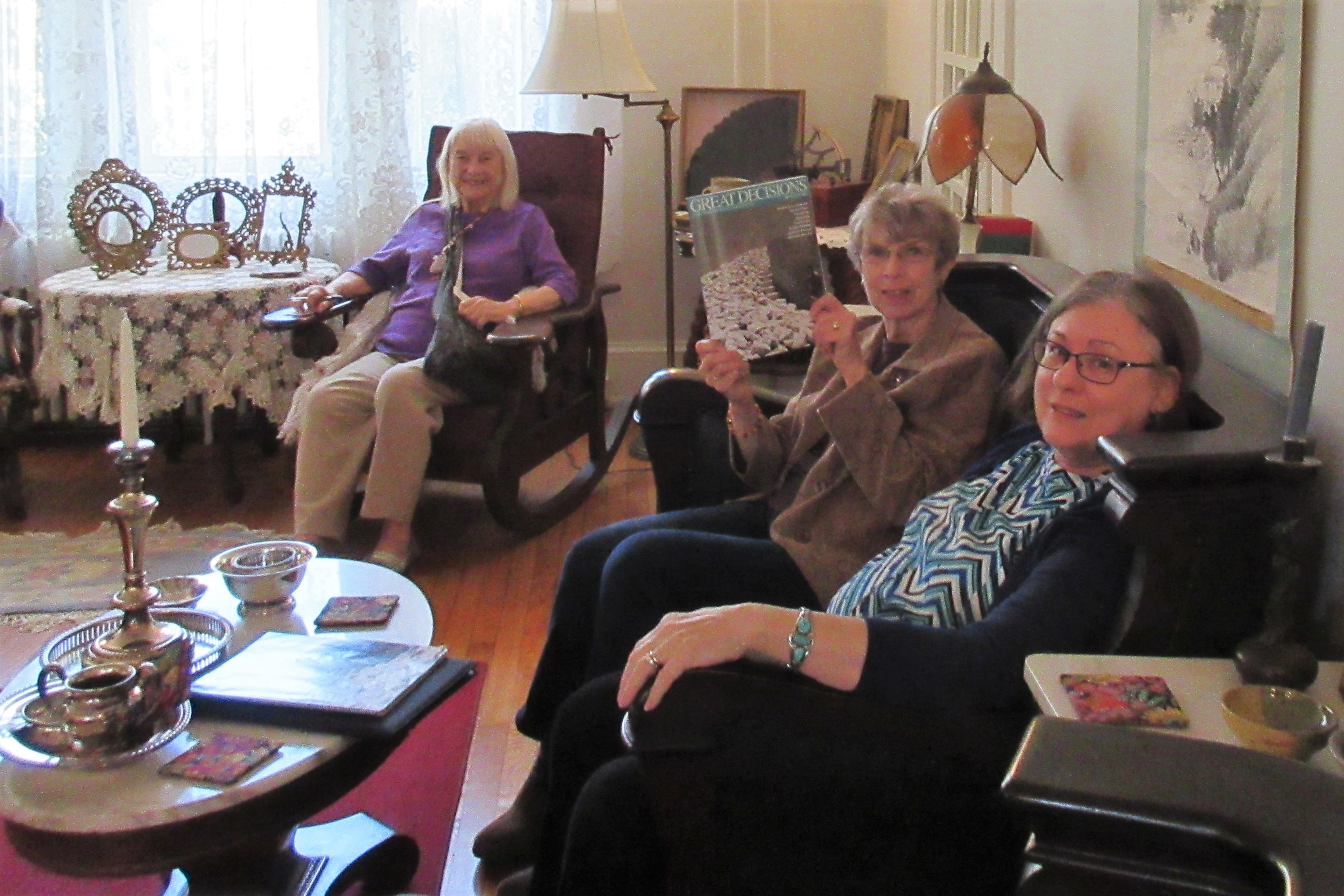 Elaine Masters, Marty Brown and Laura Zarrugh
This group was formed by Laura Zarrugh in 2016.  Nationwide it has a long-standing history.  Discussion topics and essays are published by the Foreign Policy Association.  Topics are determined by a survey of participating members.  The Great Decisions 2018 edition will be published on 1 January 2018.  The topics will be:
The Waning of Pax Americana?
Russia's foreign policy
China and America: the new geopolitical equation
Media and foreign policy
Turkey: A partner in crisis
U.S. global engagement and the military
South Africa's fragile democracy
Global health: progress and challenges
Here is a link to a brief description of each topic:
http://www.fpa.org/news/index.cfm?act=show_announcement&announcement_id=481
The 2018 Briefing Book is available now for pre-order.  The cost is $30.  Here is the link for ordering:  http://www.fpa.org/great_decisions/index.cfm?act=show_material&product_id=16851
The membership of the group includes Harrisonburg AAUW members and invited guests.  We will meet in each other's homes for discussion of the 2018 topics on the 4th Wednesday of each month, January-June.  There will not be meetings in July and August, as well as November and December. We will finish the last two topics in September and October.
The first meeting of the year will be on Wednesday, January 24th from 1:30-3:30 p.m. at the home of Laura Zarrugh.  Laura will facilitate the discussion of "The Waning of Pax Americana?" and participants will determine the order of topics for the coming months and who will host and facilitate each session.
February 28: Chapter 4: "Media and Foreign Policy". Sylvia will host and facilitate.
March 28: Chapter 5: "Turkey: A Partner in Crisis". Sue will facilitate. Pem will host. Susan will provide refreshments.
April 25: Chapter 3: "China and America: The New Geopolitical Equation". Susan and Laura will co-facilitate. Susan will host.
May 23: Chapter 2: "Russia's Foreign Policy". Elaine Masters will facilitate. Pat will provide refreshments. Location: North River Library in Bridgewater.
June 27: Chapter 6: "U.S. Global Engagement and the Military". Sue will facilitate. Marty will host.
July-August: No discussion group.
September 26: Chapter 8: "Global Health: Progress and Challenges". Pat will facilitate. Sylvia will host.
October 24: Chapter 7: "South Africa's Fragile Democracy". Marty and Elayne will co-facilitate. Elayne will host.
November-December: No discussion group.
NOTE: Meetings will be held on the 4th Wednesday of the month from 1:30-3:30pm. Topics and chapter numbers refer to the Great Decisions 2018 Briefing Book.

Pem Liskey, Susan Wheaton, Sue Gier (Pat Kuszyk and Sylvia Rogers were also present).
Mary Perramond and Elayne Smith are also participants.