On Thursday, March 24, 2016, AAUW Harrisonburg presented a panel at Blue Ridge Community College in celebration of Women's History Month.  The topic of the panel was Women in Leadership–Breakthroughs and Barriers.  Sylvia Rogers (on the left) was the moderator of the panel.  Emily Peck-McClain, Lauree Purcell, and Jan Leach were the panel participants.  The moderator and panelists are shown here with the BRCC program coordinator, Nicole Stephens (in the center).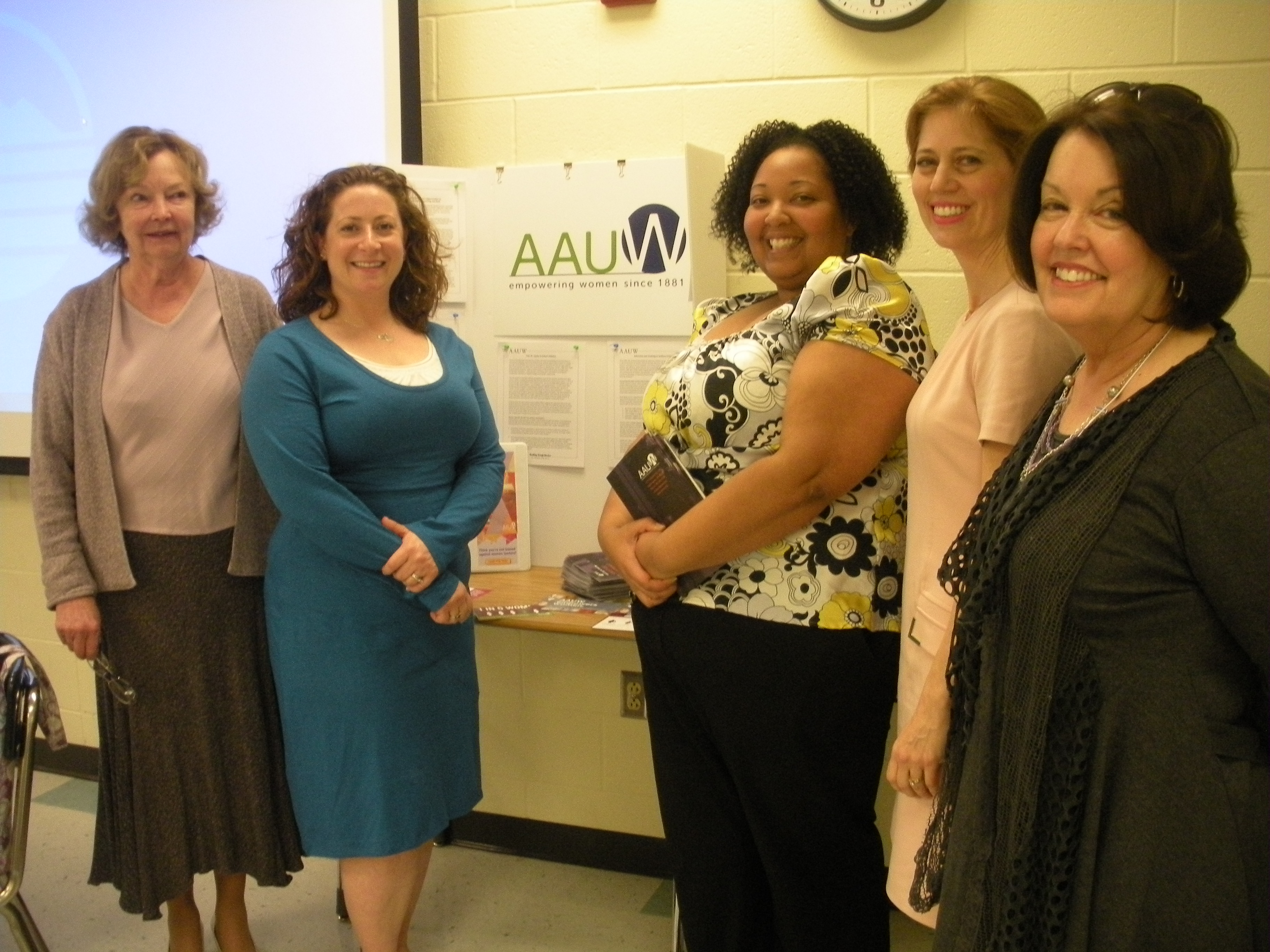 This summary has been written and posted by Sylvia Rogers.  References to resources used to develop this panel may be requested from her.
Major points covered in the panel participants discussion included:
 What qualities do women as leaders bring to the workplace that differentiate them from men's leadership styles?  Personal vision; goals aligned with values; lead from an authentic self; give credit where credit is due; humility that is not self-effacing but elevates all; good communicator; excellent listener; intentional; lead by example; empower and inspire others to take charge and make decisions; offer support, trust, understanding, direction, guidance; good sense of humor; master of opportunity management; circular vision; persistent; practical; want facts and figures before making a decision; do not rely on favors; team building is based on mission, goals, values; high standards; value time and money; enjoy order and stability; want to make things better–and move beyond the status quo; instincts and emotional intelligence are off the chart.
Does being a leader place a woman in competition with men?  This is very often perceived to be the case, but it  is a false dichotomy that is bias driven.  Get beyond that and men and women can work collaboratively and productively together and complement each other's leadership styles.
What continue to be the barriers opposing the development and leadership opportunities for women in the work place?  The barriers are culturally transmitted gender biases of longstanding, such as "old boy's clubs," male networks, your mother telling you not to win at a game with a boy.  Some of these are overt social barriers, some internalized psychological barriers.  When men mentor women, the mentoring can take the form of "benevolent" mentoring, which promotes conformity to men's styles.  Or it be "hostile," with the effect of ostracizing the woman in the workplace.  Both are a form of sexism.
What kind of support do women need in order to fulfill their leadership potential?  A good education; critical thinking and problem solving skills; knowledge of the world and other cultures; historical perspectives; field specific information; meaningful leadership opportunities and challenges; observing and working with strong women leaders in a wide range of positions;  working with women mentors; companies' investment in their employees — especially women.  It is to the benefit of the company to provide flexible working arrangement's, child care support, and both maternal and paternal leave. Go to the the National AAUW website (on the sidebar) and take the quiz about Barriers and Biases to discover if you may still have subconscious biases against women leading.
What words of wisdom can be offered to aspiring women?  Believe in yourself; act out of a confident, authentic self.  Practice self-reflection and be willing to change if you are holding yourself back.  Be a mentor to others and empower followers to develop their own potential. Forget the old "glass ceiling" metaphor as a symbol of impenetrable attainment and achievement.  Embrace the new "labyrinth metaphor," which signifies the challenges of progress through experimenting with and testing the path along which you are traveling.  Most of all, rise above the tendency to lead from your Egocentric self and and be motivated to open your perspectives to an Ecocentric understanding of your role in a position of leadership.  This leads to transformational leadership–which women are very, very adept at. See the power point presentation under the About Us link to see images of these old and new ways of understanding changing concepts about women leading.