New Creation: A Way to Combat Sex Trafficking
with Sabrina Dorman-Andrew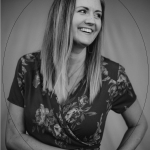 Human Trafficking is a global criminal enterprise so serious that it is one of AAUW's top Public Policy concerns.  For Virginia State AAUW and our Harrisonburg Branch it is a priority in our programming and legislative work.  At the annual NW District Meeting on September 23rd, held at the Harrisonburg City Hall, Winchester and Harrisonburg members were invited to meet and discuss the issue with Sabrina Dorman-Andrew, a leader in new approaches to understanding and combating the problem.  Her presentation was riveting, the disturbing reality of human trafficking lightened by moments of humor and                                                        evidence of progress.
Growing up in Rockingham County, Sabrina was unaware of human trafficking in the Valley until a few years ago when she learned about a case involving an acquaintance being sex trafficked by a family member.  A teacher and mother of 2 daughters, Sabrina was alarmed by this revelation and began to research the problem and attempt to identify local resources for dealing with it.  There weren't any.  Discouraged, Sabrina asked her husband, Steve, "Who is going to do something about this? There's no one."  "Then," he countered, "You'll have to be the one to do it."
Sabrina and her husband had no prior business experience, but they came up with a plan to form a new and innovative non-profit company, New Creation Virginia, that would confront the problem head on.  Sabrina would be the CEO, and Steve the Outreach and Prevention Coordinator.  Its Motto would be "Stand for Freedom," its Mission "to counteract human trafficking through prevention, education, and community mobilization." That was in 2013. Now, with 2 employees and a volunteer staff of 20, New Creation is an acknowledged model for the work it is doing and is linked to similar groups around the world.  Sabrina presently consults for Moldova, the nation with the world's highest rate of trafficking.
Sabrina explained that human trafficking is a form of modern-day slavery in which traffickers use force, fraud, or coercion to control victims for the purpose of engaging in commercial sex acts or labor services against his or her will.  Perpetrators can be family members, trusted friends or partners, predatory pimps or gangs.
Globally, trafficking is a $150 + billion industry, 2nd behind drug smuggling, with 5 times the combined profits of Google, Nike, and Starbucks.  Over 40% of traffickers are women.  There are 20-30 million victims worldwide, of whom 80% are women and 50% are under the age of 18.  Seventy-one percent are involved in sex trafficking, 16% in labor trafficking, 9% in non-specific trafficking and 4% in labor and sex.  It is happening in all 50 states.  In 2016, 8,042 cases were reported.  Interstate routes 81 and 95 are trafficking corridors in VA, and partly contributed to the state having a national ranking of #5 in 2015.  Presently, it is down in ranking to #15, due to the effective work of New Creation and similar initiatives, and increased community vigilance supported by law enforcement efforts.  Last year, the VA state legislature passed a bill (supported by AAUW) that defined anyone under the age of 18 a victim of trafficking, thus placing the burden and penalties for the crime on the traffickers.
Traffickers lure victims with promises of a better life—love, protection, and security from lack of basic survival needs.  Runaway children are especially vulnerable. The average age of a victim in the U.S. is 12 years old.  Some victims are abducted.  Some unwittingly take jobs in "false agencies" like nail salons, massage parlors, pornography shops, strip clubs, brothels, escort services, and the like.  Most are victimized by a trusted family member, an intimate partner, a friend or a neighbor.  Traffickers make contact with their victims through social media, at malls, in schools, at parties, and at bus or truck stops.
New Creation addresses this complex and tragic problem in four ways:
Educatingyouth on the dangers of human trafficking and unveiling the common lures traffickers use;
Empowering and mobilizing communities to get involved in counteracting this injustice;
Funding rescue and restoration around the world through its New Creation Shoppes;
Equipping and traininglaw enforcement, teachers, medical professionals, and other leaders to recognize signs that human trafficking is occurring.
In the past, Sabrina said, New Creation provided counseling to victims.  It no longer does, but it refers them to trusted counselors and services.
Asked how individuals can support efforts to combat this problem, Sabrina said that there are several ways to take action:
First, be observant and learn to spot the "Red Flags" indicative of victimization.  Physical:  bodily, and sexual abuse; physical restraint; confinement; torture; malnourishment.  Behavioral:  fearful, anxious, depressed, submissive, tense, nervous, and avoiding eye contact.  Other clues:  few or no personal possessions, no ID, work excessively long and/or unusual hours.  Their stories reveal numerous inconsistencies.  They are unable to speak up for themselves.  They are under the age of 18 and are providing sexual services of some kind.
If we have suspicions that an individual is a trafficker or is being trafficked–or that a location is a front for trafficking activities– what do we do?  Sabrina suggested that we speak with a school counselor, a social services officer, a Title IX coordinator or other trained professional.  Or, we can directly call the National Human Trafficking Resource Center Hotline and report what you have observed."  We can also help spread the word to victims that they can make confidential calls 24/7 to the Hotline:  1-888-373-7888.  Or, they can text HELP or INFO to BEFREE (233733).
Concerned citizens can also partner with New Creation and other civic-minded groups to host informational events at a church, a home, a school, a business, or at other community locations.
Shop at the two New Creation fair trade shops in Harrisonburg.  Since 100% of the stores' profits help fund its mission, your  impact will be huge.  The Main Location is 3051 Main Street (Wednesday-Saturday, 11a-6p).  The Agora Downtown Market is 165 S. Main Street (Tuesday-Saturday, 11a -6p).  The beautiful, high quality items in the stores are also displayed and may be purchased online.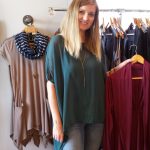 Make a generous donation.  Visit the New Creation website to learn more about its work and how you can support it.  You may also decide to devote some time as a volunteer:  http://newcreationVA.org/ .  Facebook:  NewCreationVA.  Email: info@newcreationVA.org.
Submitted:  Sylvia Rogers, 10/20/17